Omeprazole
Previous
Next
Most Commonly Used
Omeprazole 20mg DR Cap
Dr. Reddy's Laboratories, Inc.

Pill Identification: OMEPRAZOLE 20 mg R 158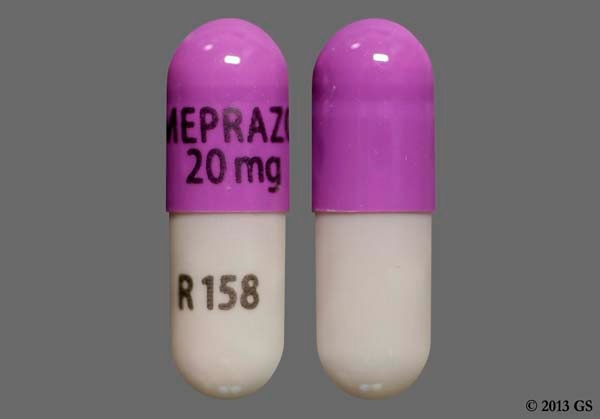 Omeprazole 20mg DR Cap
Sandoz Inc. a Novartis Company

Pill Identification: OME 20 OME 20
Omeprazole 40mg DR Cap
Sandoz Inc. a Novartis Company

Pill Identification: OME 40 OME 40
Omeprazole 40mg DR Cap
Glenmark Pharmaceuticals

Pill Identification: G232 LOGO
Also See:

Answers to Frequently-Asked Questions (FAQs)
Other Class Related Drugs
Additional Patient Usage Statistics
Take Action:
Common Side Effects of Omeprazole
Omeprazole can cause side effects. Tell your doctor immediately if you have watery stools or severe diarrhea. This may be caused by a serious infection.
Also tell your doctor right away if you have:
Trouble swallowing food
Sudden and severe nausea, stomach pain, or vomiting
Weight loss
Vomit blood, see blood in your stools, or have dark tarry stools
Light-headedness and dizziness
Shortness of breath and wheezing
Trouble breathing
Unexplained weight loss
Your risk for broken bones in your hip, spine, or wrist may increase while taking omeprazole. The risk increases if you are older than 50, take high doses of omeprazole, or take it for more than a year. Talk with your doctor about your risk of having bone fractures while taking omeprazole.
Contact your doctor immediately if, while taking omeprazole, you have side effects including:
Fast, slow, or uneven heartbeat
Seizures or tremors (shakiness)
Abnormal or fast heartbeat
Feeling jittery, muscle weakness, spasms, cramps, or muscle aches
Light-headedness, fainting, or dizziness
The most common side effects of omeprazole include:
Headache
Constipation, diarrhea, gas, or stomach pain
Nausea or vomiting
Tell your doctor if these side effects do not go away or get worse while taking omeprazole.