|
|
|
Southwestern Breakfast Tostadas
Recipes for you from
Diabetic Living®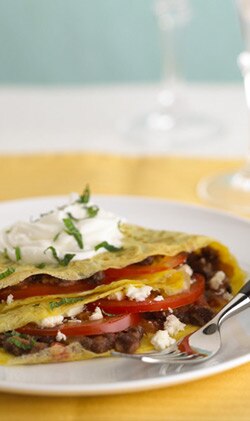 Southwestern Breakfast Tostadas
Mash the beans slightly so they absorb the flavors of the other ingredients.
MAKES: 2 servings
CARB GRAMS PER SERVING: 24
2 6-inch corn tortillas
1/2 cup canned black beans, rinsed and drained
2 eggs or 1/2 cup refrigerated or frozen egg product, thawed
1 tablespoon fat-free milk
1/8 teaspoon black pepper
Dash of salt
Nonstick cooking spray
1/2 cup chopped tomato
2 tablespoons crumbled queso fresco or shredded Monterey Jack cheese
2 teaspoons snipped fresh cilantro
Purchased chunky salsa (optional)

To Make:
1. Warm tortillas according to package directions. Meanwhile, use a potato masher or fork to slightly mash beans in a small bowl; set aside. In another small bowl or 1-cup glass measure, combine eggs, milk, pepper and salt. Beat with a wire whisk or rotary beater.
2. Lightly coat an unheated medium nonstick skillet with nonstick cooking spray. Preheat over medium heat. Pour egg mixture into hot skillet. Cook without stirring until egg mixture begins to set. Run a spatula around edge of skillet, lifting egg mixture so that the uncooked portion flows underneath. Continue cooking about 2 minutes more or until egg mixture is cooked through but is still glossy and moist. Remove from heat.
3. Spread tortillas with mashed beans. Divide cooked egg mixture between tortillas. Top with tomato, cheese, and cilantro. If desired, top with salsa. Serve immediately. Makes 2 servings.
Nutrition Facts Per Serving:
Servings per recipe: 2
Calories: 215
Protein (gm): 15
Carbohydrate (gm): 24
Fat, total (gm): 8
Cholesterol (mg): 219
Saturated fat (gm): 3
Dietary fiber, total (gm): 5
Sodium (mg): 409

Diabetic Exchanges:
Starch (d.e): 2
Medium-fat meat (d.e): 2
Recipe used with permission from Diabetic Living® magazine, DiabeticLivingOnline.com. ©2012 Meredith Corporation. All rights reserved.