More giggles,
less sniffles.
Visit MinuteClinic® for your cough
and cold symptoms, and let us
help you get back to better faster.
What is a common cold?
When it comes to colds, "common" means that most people get them. The symptoms are harmless even though they're annoying. Colds are minor infections of the throat, nose and sinuses that last one to two weeks. They can be caused by nearly 250 different viruses.
From sneezes to scratchy throats, cold symptoms are a leading cause of doctor visits, work sick days and school absences. Colds seem to hit kids and their caretakers the hardest. Children suffer around 6 to 12 colds a year. This leads to 22 million school day absences. This is in part because close contact at daycare and school make it easier to share germs. Adults have an average of two to four colds, with seniors getting only about one a year.
Although you can get a cold at anytime, peak season runs from August through March.
Causes
The cold virus spreads easily, just like the flu virus. Coughs and sneezes — as well as the germ-ridden hands and surfaces that catch them — can spread infected droplets from a sick person's respiratory system to others.
Symptoms
While the onset of a cold is sometimes confused with the flu, the symptoms are milder.
Sore throat
Stuffy nose
Runny nose
Cough
Mild fever
Treatment
There's no cure for a common cold. Since colds are caused by viruses, antibiotics don't help. If the cold sparks a sinus or ear infection, however, you might need to see a practitioner and get a prescription.
To help recover from your cold, drink fluids but avoid caffeinated beverages. If you're hungry, eat.
Try gargling with salt water if you have a sore throat. And use over-the-counter remedies if they give you relief from symptoms.
Preventions
To stop the spread of these busy viruses:
Wash your hands frequently. Use soap and water or an alcohol-based antibacterial gel.
Cough and sneeze into a tissue, not into your hands. Then wash or use an antibacterial gel.
Turn your head away from others to cough.
Bend your arm to sneeze or cough into it.
Don't touch your eyes, nose or mouth if you or others around you are ill.
Wash kitchen and bathroom counters frequently as viruses can last hours.
Don't forget to scrub toys that sick children might be playing with.
Don't share glasses, toothbrushes or towels with someone who is sick.
If possible, limit your exposure to crowds during peak cold season.
We're here to help
Find out more about our service
and nearby clinics that offer it.
Open 7 days a week
No appointment necessary
Most insurance accepted
Find a Clinic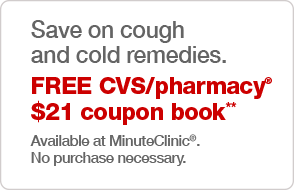 Over 200 viruses can cause the common cold.
Millions of Americans suffer from colds each year.
Source: Centers for Disease Control and Prevention
*Ages 18 months and older. Services vary by state. Visit MinuteClinic® for details.
** No purchase necessary. Available while supplies last. Restrictions apply. Limit 1 per customer. Coupons expire 3/31/16. Not available in MA, NY, PA and RI. Visit MinuteClinic® for details.