Care you need.
On your schedule.*
Find the clinic with the shortest wait time.
Then just walk in or save a spot. Here's how:
1. Enter your ZIP code into the clinic locator here
or in the CVS Pharmacy® app.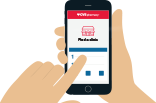 2.

You'll see a list of
nearby clinics and their
wait times, if any.

3.

If you want to save a spot, choose the Hold Place in Line button for a participating clinic.

4.

Pre-register in a few steps. We'll email or text your pre-registration code.
Frequently asked questions