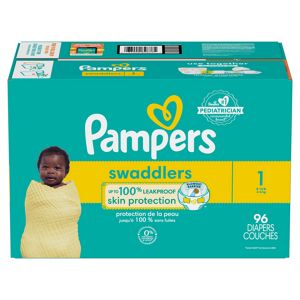 Pampers Swaddlers Diapers Size 1 (8-14 lbs)
No. 1 choice of hospitals (based on sales of the newborn hospital diaper). Swaddlers Wetness Indicator. Pampers Rewards by Gifts to Grow. Swaddlers Wetness Indicator. Blankie Soft. Absorb Away Liner. Pampers Best Dryness and Fit. Contains 2 package liners are not intended for individual retail sale. Pampers.com. For more information on common diapering questions such as choosing the right Pampers product for your baby, preventing diaper leaks, diaper rash, and potty training, please consult Pampers.com. Corrugated recycles. Made in USA from domestic and imported materials.
Pampers Swaddlers Can These Mild Ingredients Which Are Gentle to the Skin: Petrolatum, Stearyl Alcohol, Aloe Barbadensis Leaf Extract.
If you notice gel-like material on your baby's skin, don't be alarmed. This comes from the diaper padding and can be easily removed by wiping your baby's skin with a soft, dry cloth. Store unopened liners in outer box.
Keep away from any source of flame. Pampers Diapers, like almost any article of clothing, will burn if exposed to flame. To avoid risk of choking on plastic, padding, or other materials, do not allow your child to tear the diaper, or handle any loose pieces of the diaper. Discard any torn or unsealed diaper, or any loose piece of the diaper. To avoid suffocation, keep all plastic bags away from babies and children.