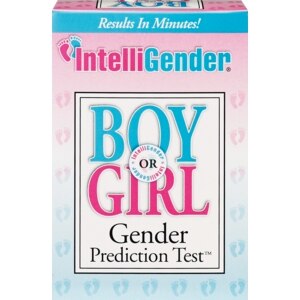 IntelliGender Gender Prediction Test
Boy or Girl. Pink or blue, let IntelliGender tell you! Get clear results in 10 minutes! IntelliGender's Gender Prediction Test (G.P.T) is designed for easy home use by expectant mothers curious about their baby's gender. G.P.T. is a simple-to-use urine test that can be performed as early as 6 weeks following the first day of your missed period and provides clear results in just 10 minutes!
Please store in a cool, dry place.
This test is not recommended for women with PCOS or who are currently taking progesterone. Keep out of reach of children. Do not ingest. Contents may be harmful if swallowed.