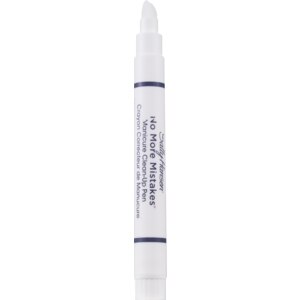 Sally Hansen Manicure Clean-Up Pen Maximum Strength
Refillable Plus 2 Extra Replacement Tips. Salon tested. Dermatologist tested. Instantly erases excess nail color. Removes smudges & smears with just one stroke. You Have: Nail color smudges, smears, and overflow on cuticles around nails and under nail tips. You Want: To erase manicure mistakes fast - without damaging the rest of your manicure. How it Works: Precision tapered felt-tip pen instantly erases nail color mistakes with just one stroke. Quick and precise - Won't ruin freshly applied nail color. As easy to use as writing with a pen! You'll Get: A salon-perfect manicure at home. Made in U.S.A.
Product Type:

Treatment

Formulation:

Liquid
Ethyl Lactate, Butyl Acetate, Ethyl Acetate, Amyl Acetate, Isopropyl Myristate, Tocopheryl Acetate.
Holding No More Mistakes as you would hold a pen, write over misapplied nail color, pressing lightly. Wipe tip after every use with a tissue to avoid color build-up. Replace cap tightly. To Replace Tip: Hold pen with tip pointing up. Firmly grasp and lift out used tip; push in a new one. To Refill: Hold pen over sink with tip pointing tip. Firmly grasp and lift out tip; refill pen with nail color remover. Replace tip and point down to moisten.
Flammable. Keep from heat and flame.