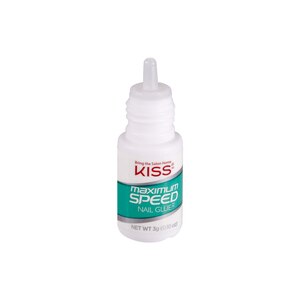 Kiss Maximum Speed Nail Glue
Professional manicure products. No. 1 selling nail glue. The pro's choice. Sets in 4 seconds. Bond & repairs artificial nails, tips, wraps & natural. Hydroquinone free. Made in USA.
Product Type:

Artificial Nails

Formulation:

Liquid
Ethyl Cyanoacrylate, BHA.
Nail Repair: Apply a tiny drop of glue on split or cracked nails. Hold down with a manicure stick. Tip Application: Clean nails with acetone-based nail polish remover. Apply a drop of glue to free edge of nail. Place tip on nail and press firmly. Apply another drop of glue onto the seam for maximum adhesion. Removal: 1. Do not force or pull nails off. 2. Otherwise, trim off as much artificial tip as possible. Soak nails in acetone-based nail polish remover until soft. Wipe off softened plastic and glue. Repeat as necessary.
Contains cyanoacrylate. Eye irritant. Bonds skin and eyes in seconds. If skin bonding occurs, do not pull; peel apart gently using acetone or polish remover. If eye contact occurs, flush immediately with water. See physician at once. Avoid contact with clothing as burns may occur on skin. Do not use on nails that are infected, damaged, thin or weak. Keep out of reach of children.