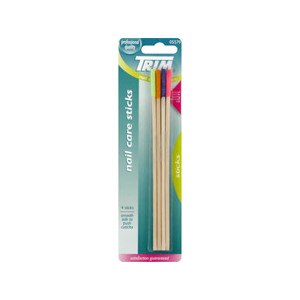 Professional quality. Textured end for cleaning underneath nails. Smooth side to push cuticles. TRIM products are manufactured to the highest quality standards that have satisfied customers for over 65 years. Manufactured in China.
Start by soaking fingers in warm soapy water or massage cuticles with cuticle cream or hand lotion. Wrap beveled end of cuticle stick with cotton and gently push back and shape cuticles. Cut off any hangnails or stray strands of skin clinging to the cuticles with a cuticle nipper or cuticle scissors. Use the end of the cuticle stick with grit to carefully clean under nails. The ends may be wrapped in cotton and dampened with nail polish remover to clean under nails and remove nail polish from under cuticle area.
Keep out of reach of children. This product is not intended for use by children.