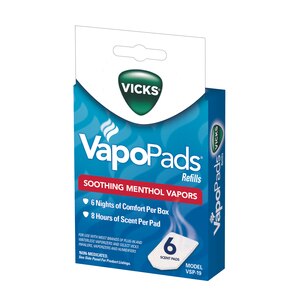 Model VSP-19. Non-medicated. 8 Hours of comfort per pad. For use with most brands of plug-in and waterless vaporizers, Vicks VapoSteam Inhaler and select Vicks humidifiers that use scent pads. Vicks VapoPads scent pads work with heat to gradually release soothing aromatic vapors.
Menthol, Camphor, Eucalyptus Oil, Cedarleaf Oil (Myristica Oil), Nutmeg Oil, Thymol.
Tear pouch at notch to expose pad. Read cautions carefully.
Eye irritant. Contact with exposed pad may cause eye irritation. In case of contact with eyes, flush with water immediately. If eye irritation persists, consult a doctor. Do not touch exposed pad with skin. In case of contact with skin, wash area immediately with plenty of water. Do not place exposed pad on furniture, fabrics, bedding and plastics. Do not add any liquids to the pad or use more than one pad at a time. For scent only, pad is not to be taken internally. Pad may present a choking hazard. Keep out of reach of children and pets.