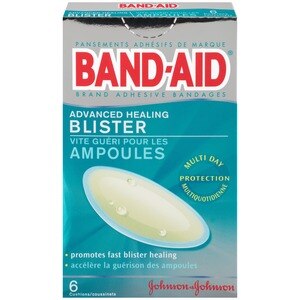 Band-Aid Advanced Healing Bandages Blister
Compare & Save
with CVS/pharmacy Brands
Size: 6 EA

$5.49

(91.5¢ / ea.)
1.16 x 2.16 in. Multi day protection. Promotes fast blister healing. Sterilized for safe use on open blisters. Cushioning gel pad relieves pain while protecting the blisters. Waterproof, superior adhesive stays in place for multi-day use. Flexible foam conforms to skin for greater fit and comfort. Seals out water, dirt, and germs that can cause infection. With Compeed Moisture Seal Technology. Sterile unless individual wrapper is opened or damaged. Made in Denmark.
Before use, see instructions inside box.
Diabetics and those with poor circulation or fragile skin should not use this product. If redness or swelling occurs, discontinue use and consult a physician. Do not use on any infected area. If blister condition persists, see your doctor. Do not use on children under 2 years of age.