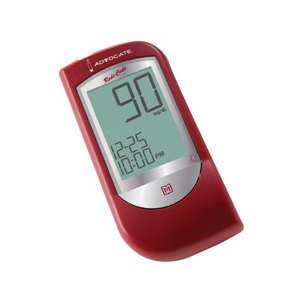 Advocate Redi-Code Speaking Blood Glucose System
The Advocate Talking Blood Glucose Monitor Kit speaks to you in English or Spanish. A small blood sample size of .7 microliter is all that is needed for testing. This monitor gives you fast results in 7 seconds and has 450 test memory. The large screen is great for visibility and has alternative site testing. You can use the palm, forearm, upper body, calf or thigh for testing blood glucose levels.
Kit contains:
Talking glucose meter
Owner's manual
Quick reference guide
Warranty card
Carrying case
10 strips
10 lancets
lancing device
Control Solution
Test your BAC at the push of a button! Simply push the power button for testing in seconds. After turning on the unit, the breathalyzer will count down while it warms up or 'primes' the sensor for testing. The unit will give an audible beep and the end-user will take a deep breath and blow SLOW and STEADY for 5 seconds as the unit will give a second beep to signal completion of the testing. In seconds, the unit will display the BAC measurement from .00 to .40 % BAC.