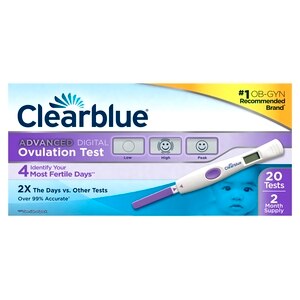 Clearblue Advanced Digital Ovulation Test, 2 months
2 month supply. Over 99% accurate (Clearblue is over 99% accurate at detecting the LH surge). Detects your personal 4 most fertile days. Get pregnant faster. No. 1 OB-GYN recommended brand. 1. Personal & effective: Clearblue detects estrogen and luteinizing hormone (LH) in urine. A surge in LH occurs just before ovulation and indicates you are at your most fertile time (peak fertility). A rise in estrogen occurs a few days before this and indicates you are at high fertility. Make love on high and peak fertility days to maximize the chance of getting pregnant naturally. 2. Unique: It is the only ovulation test that typically identifies 4 fertile days, that's 2 more than other ovulation tests (urinary LH only tests). Using this test to identify your most fertile days can help you get pregnant faster than not using any method. 3. Clear & easy: Insert the test stick into the holder then simply hold the absorbent tip downwards in your urine stream for 5 seconds. Unmistakably clear digital results are displayed within 5 minutes. 4. Lasts 2x longer. It's the only ovulation test with a digital reader that you can use for more than one month. With 20 tests most women will be able to identify their 4 most fertile days in 2 cycles. Contents: 1 holder, 20 test sticks and 1 English insert. Clearblue Digital Ovulation Test is not intended for contraceptive use and is not suitable if you have recently been pregnant, reached menopause, have polycystic ovarian syndrome or are taking certain fertility drugs. Our professional staff is available to assist you. Visit us at: www.clearblueeasy.com.
Read instructions before use. Store at 36-86 degrees F (2-30 degrees C). Do not freeze. For in vitro diagnostic use. Not for internal use.
Keep out of the reach of children.