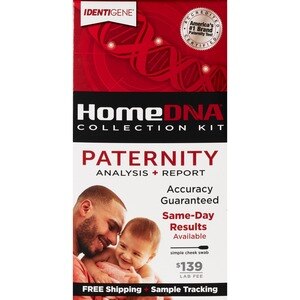 IDENTIGENE DNA Paternity Test
Identigene is America's #1 paternity test brand. The Identigene DNA Paternity Test Kit provides fast, accurate and confidential DNA paternity test results in just 2 business days. Identigene is the affordable answer you need, without weeks of waiting.
100% Accurate
Additional $89 lab fee required
Online test registration at DNATesting.com for faster processing
Results available online of over the phone two days after samples arrive at the laboratory.
Simple and painless cheek swab
AABB and LAB accredited testing laboratory.
When using the kit for legal purposes (such as child support or child custody), testing requires a witnessed sample collection. Call Identigene for detailed instructions.
Free postage to send DNA samples to laboratory.
Friendly and highly-trained customer service 1-888-404-GENE
This item is NOT for New York residents
Identigene makes DNA paternity testing easy. If you have questions, our friendly and highly-trained customer service is available from 9:00-6:00 eastern time.
Complete the order form
Complete the sample Envelopes
Use enclosed swabs to collect DNA from the possible father and the child by rubbing inside the cheek. Put swabs into the sample envelope.
Place order form, payment and sample envelopes into the postage-paid return envelope and mail to Identigene.
Use your Login and password to get results online at DNAtesting.com or by phone and payment form.