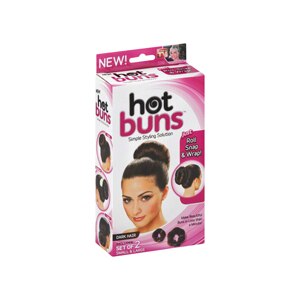 Hot Buns Simple Styling Solution
As seen on TV. Includes: set of 2 small & large. Simple styling solution. Just roll, snap & wrap! Makes beautiful buns in less than a minute. Product inventor: Taylor Baldwin. Lightweight and comfortable, and no pins needed! Central cord secures the bun and keeps it tight & in place. Create all styles of buns - small & large. Great for all ages. High; Medium; Low. Product color and appearance may vary. Made in China.
Just 3 Easy Steps: 1. Roll. 2. Snap. 3. Wrap!