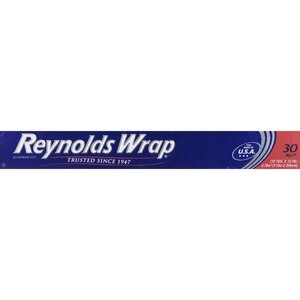 Reynolds Wrap Aluminum Foil, 30 Sq Ft
10 yds x 12 in. - 30 square feet. 5 feet more! Trusted since 1947. Strong enough for your toughest situations! Wrap food to keep it fresh & to prevent freezer burn. Line pans before cooking to make cleanup easy. Cover bowls to help keep food moist & to prevent splatters. Foil made in USA.
Reynolds In the Kitchen & Around the House - Wrap for Freshness: Wrap any size or shape sandwich or snack to hold it together & keep it fresh. Foil doubles as a placemat. Clean Closets: Keep dresses or shirts with spaghetti straps from landing on the closet floor by covering hangers with foil. Form a lump the foil to catch the straps. Works great for scooped necked shirts too. Missing Shoelace Tip: Lost your shoelace tip? Cover shoelace end with foil and thread.
Cutting edge is sharp. Avoid contact.