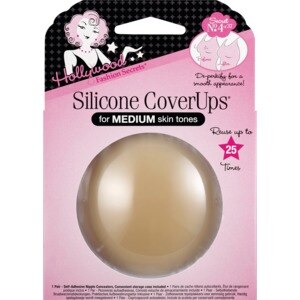 Hollywood Silicone CoverUps
The stars secret to a smooth appearance! 1 pair - self-adhesive reusable concelears. Secret No. 4 of 37. Thin, smooth, nearly invisable! Hypo-allergenic. Self-adhesive. A gapping sweater inspired it all: Hollywood Fashion Tape. Now, your Fashion Fairy Godmothers, Marni and Jane, conceive and design tons of magical solutions to help women feel confident and look fabulous - at work, home and play. - Hollywood Fashion Secrets - style solutions unseen on women everywhere! Made in China.
Peel away the thin protective backing on the Hollywood Silicone coverups. Center Hollywood Silicone coverups on your breast and press into place. Use die compact case for storage and travel. Important: To extend the life of your Hollywood Silicone CoverUps, gently wash with mild soap and air dry after each use.When dry, store in the travel case. May be reapplied 25 times or more.
If irritation or redness occurs, discontinue use. Do not apply to irritated, sunburned or sensitive skin. Pretest for sensitivity or allergies.