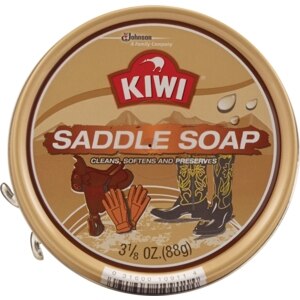 Kiwi Outdoor Saddle Soap for All Colors
Cleans, softens and preserves. Kiwi Saddle Soap is a traditional blend of ingredients which cleans, softens and preserves smooth leather. It contains a fine soap to thoroughly clean away dirt and grime, even salt stains. Kiwi Saddle Soap is formulated with glycerine and lanolin to make leather soft and supple, with a quality wax for added protection.
Remove excess dirt with a stiff brush or damp cloth. Rub surface of Kiwi Saddle Soap with a moist cloth to develop lather. Rub well into leather. Wipe off excess lather with a damp cloth. Repeat procedure if necessary. When leather is dry, buff with a soft cloth to develop lustre. Not for use on suede.