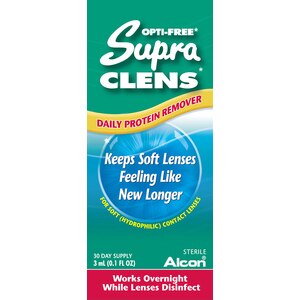 Alcon Opti-Free Supra Clens Daily Protein Remover
Quick & easy one drop. For soft and rigid gas permeable (It is recommended that your lens case be periodically replaced with a new one. A new lens case in enclosed inside Supraclens Daily Protein Remover) contact lenses. Works in case while lenses disinfect. Sterile. 30 Day supply. Replace your enzyme tablets. Guaranteed.
A Preservative-Free Solution Containing Propylene Glycol, Sodium Borate and Highly Purified Porcine Pancreatin Enzymes.
Shake well before use. See package insert for directions for use and important safety information. Store at room temperature.
Not for use directly in the eye. Red tip indicates do not put Supraclens Daily Protein Remover directly into eye. For your protection, this bottle has an imprinted seal around the neck. Do not use if seal is damaged or missing at time of purchase. Avoid excessive heat.