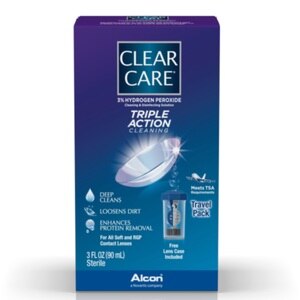 Clear Care No Rub Cleaning & Disinfecting Solution Travel Pack
One bottle solution. Carry on size. Cleans, disinfects, removes protein for all soft and RGP lenses. Sterile. Clear Care One Bottle Solution for Cleaning & Disinfecting is a convenient and highly effective system for simultaneous cleaning, daily protein removal, and disinfecting of soft (hydrophilic) and rigid gas permeable lenses as recommended by your eye care professional. Contents: Clear Care One Bottle Solution for Cleaning & Disinfecting is a sterile solution containing micro-filtered hydrogen peroxide 3% sodium chloride 0.79% stabilized with phosphoric acid, a phosphate buffered system, and Pluronic 17R4 (a cleaning agent). Clear Care Bubbles to actively clean, disinfect and remove protein from lenses without the harsh chemicals and added preservatives found in multi-purpose solutions. Clear Care is clinically proven No. 1 in comfort. In a major clinical study, 8 out of 10 lens wearers preferred Clear Care to their current multi-purpose solution. They experienced less dryness and irritation and were able to wear their lenses longer. Increased comfort; increased wearing time; less dryness; less irritation and redness. Experience the feeling of fresher, cleaner, more comfortable lenses. What's Inside Makes the Difference: Hydrogen Peroxide 3%: You see it working! Kills germs and bacteria that can cause serious infections. Bubbling action removes protein, dirt and build-up. Clear Care Disposable Lens Case with Neutralizing Disc: No preservatives or harsh chemicals enter your eye. Neutralizes the active disinfectant to create a gentle saline solution close to your own tears. Pluronic 17R4: For clean, comfortable lenses. Built-in cleaner. Cleans without rubbing.
Product Type:

Lens Solution

Formulation:

Liquid

Quantity:

0-5 OZ

Ship & Save:

Ship & Save Eligible

Size:

Travel
Micro-Filtered Hydrogen Peroxide (3%), Sodium Chloride (0.79%), Stabilized with Phosphoric Acid, a Phosphate Buffered System, and Pluronic 17r4 (a Cleaning Agent).
Watch the bubbles go to work! To ensure proper disinfection of your lenses you must follow the instructions completely. Do not skip any steps. Always wash and rinse your hands before handling your lenses. See package insert for special RGP instructions. 1. Remove and place each lens into the appropriately marked L/R domed lens holder. Rinse with Clear Care for 5 seconds. 2. Fill the lens case to fill line with Clear Care and place the lens holder in the case. 3. Tighten the cap and store lenses for at least 6 hours or overnight. Do not shake the case. Your lenses are ready to wear after soaking for 6 hours. No final rinse with saline is necessary. Store at room temperature.
Do not use flat lens case. Clear Care only works with the special lens case provided. Do not remove lenses from case until at least 6 hours later. The solution needs time to neutralize. Do not rinse lenses with Clear Care prior to inserting lenses into your eyes. If you want to rinse lenses, use a sterile saline like SoftWear Saline. Do not squirt Clear Care directly into your eyes. Tamper Resistant: Do not use if safety seal around the bottle cap is broken or damaged. Contraindications: There are no known contraindications for use of Clear Care. If you are allergic to any ingredient in this solution, do not use. Your eye care professional may recommend additional products or procedures to care for your lenses based on individual tear chemistry and lens wearing schedule. Always follow your eye care professional's instructions. See Clear Care package insert printed on inside of carton for detailed directions and important safety and other information. Keep out of reach of children. Tamper Resistant: Do not use if safety seal around the bottle cap is broken or damaged.