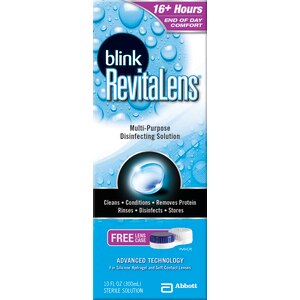 RevitaLens Ocutec Multi-Purpose Disinfecting Solution
Lens case inside. Formulated for soft contact lenses. Sterile. Cleans. Rinses. Disinfects. Stores. Removes protein. Conditions. 16+ hours. End of day comfort. RevitaLens OcuTec Multi-Purpose Disinfecting Solution delivers comfort and disinfection for soft contact lenses, including silicone hydrogel lenses. The OcuTec Activity delivers effective cleaning and robust dual-disinfection and removes protein and other deposits that commonly accumulate during lens wear - a clean lens is a comfortable lens. RevitaLens OcuTec MPDS with its advanced technology: delivers brilliantly clean and clear contact lenses; conditions the lenses to maintain surface moisture; provides clearer vision and increases end of day comfort; provides safe storage up to 30 days. Ask your eye care professional what makes RevitaLens OcuTec Solution a great choice for effective disinfection and comfort, or visit us at www.yourhealthyeyes.com. Solution product of Spain. Lens case product of China.
Ship & Save:

Ship & Save Eligible
RevitaLens OcuTec Solution is a Sterile, Buffered Aqueous Solution with Alexidine Dihydrochloride 0.00016% and Polyquaternium-1 0.0003% as Preservatives/Disinfectants, Boric Acid, Sodium Borate, Tetronic 904, Edetate Disodium, Sodium Citrate, Sodium Chloride, and Purified Water.
See your eye care professional annually. Tips for Healthy Lens Wear: Rinse for lens-wearing comfort. When you insert your lenses. 1. Wash your hands with soap and water and dry with a lint-free towel prior to handling your lenses. 2. Prior to reapplying lenses, rinse each side of the lens for 5 seconds with fresh RevitaLens OcuTec solution to remove any debris on the lens. Rub, rinse & soak for effective disinfection when you remove your lenses. 1. Wash your hands with soap and water and dry with a lint-free towel prior to handling your lenses. 2. Place 3 or more drops of RevitaLens OcuTec solution on one side of the lens surface. 3. Rub your lens gently from the center to the edges for at least 2-4 seconds (Never rub in a circular motion, because it may tear the lens and not clean the outer edge surface). 4. Turn the lens over and repeat steps 2 and 3. 5. Rinse each side of the lens for 5 seconds with fresh RevitaLens OcuTec solution. Place lenses in clean lens case and fill with RevitaLens OcuTec Solution. Close lens case tightly. 6. Soak - Allow lenses to soak for a minimum of six (6) hours for disinfection, cleaning, and protein removal. Caring for Your Lens Case: Always rinse your lens case daily with fresh RevitaLens OcuTec Solution and let it air dry. Never use tap water. Never re-use solution. Replace you lens case every 1-3 months. Don't Forget the Following Guidelines on How Best to Take Care of Your Lenses: Follow your eye care professional's instructions; Always wash your hands before handling your lenses; Rub, rinse, and disinfect your lenses each time you remove them; Always handle the same lens, the right or the left, first in order to avoid mix-ups; Do not expose lenses or lens case to tap water, bottled water, distilled water, lake water, or ocean water; Do not use saliva or put lenses in your mouth to rewet; Do not swim, shower, or use a hot tub while wearing soft contact lenses; Do not wear lenses longer than prescribed; Do not transfer contact lens solution into smaller travel-size containers. The sterility of the solution will be impacted and can lead to serious eye infections; Discard any lens that is damaged or dehydrated; Avoid using aerosols when wearing contact lenses; Discard any remaining solution in your lens case before disinfecting your lenses again.
If you are allergic to any ingredient in this product, do not use. Use only if imprinted overwrap on bottle is intact.