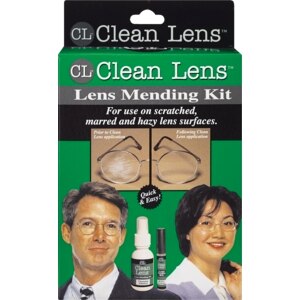 Clean Lens Mending Lens Kit
For use on scratched, marred and hazy lens surfaces. Quick & easy! Clean Lens is a unique formula for use on: Eyeglass lenses; Protective safety lenses; Sunglass lenses; Recreational lenses; Tinted lenses; Watch crystals; Cellular phone displays; Calculator displays. Clean Lens Kit Includes: Cleansing solution; Lens cloth; Repair formula; Instructional brochure. Cleansing Solution: 2.0 fl oz (90 ml). Repair Formula: 0.3 fl oz (9 ml). Clean Lens does not modify the prescription of the lenses. Clean Lens dries to a sheer transparent appearance. Clean Lens does not adhere to lenses that have a protective glare coating. Made in USA.
Ship & Save:

Ship & Save Eligible
Quick and Easy Process is Simple and Effortless: Spray the Cleansing Solution on the lens. Rinse with clean running tap water. Wipe dry. Spread the Repair Formula. Let dry. Prior to using the Cleansing Solution, please read complete instructions and warnings in enclosed brochure.