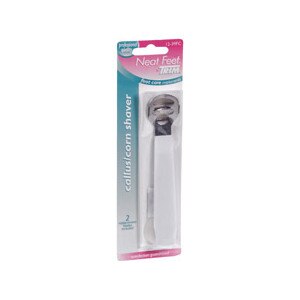 Trim Neat Feet Callus/Corn Shaver
Shaver has a sturdy handle for ease of use. German blades are sharp and long lasting. 2 replacement blades included in this package. Handy storage case.
Soak feet in warm water to soften tough skin. Dry thoroughly. Gently, draw the shaver across the corn or callus in a shaving motion to remove THIN layers of dead skin. Directions for changing blades: Place rubber disk (included) on a flat dry surface. Grasp shaver by handle; place blade carrier portion of the shaver on the rubber disk. While applying light pressure, slide the shaver handle forward (away from you). This will disengage the blade carrier. Carefully reverse the existing double edge blade or replace with a new blade. Place blade carrier on the rubber disk, position shaver on top and while applying slight pressure, slide backwards until the blade carrier locks into place.
The razor blade is very sharp and should be handled with extreme care. Do not shave live skin. Diabetics and hemophiliacs should not use this tool. Use on corns and calluses only. Do not use on foot warts. Keep out of reach of children. This product is not intended for use by children. In case of circulatory impairment or diabetes contact your physician prior to use.