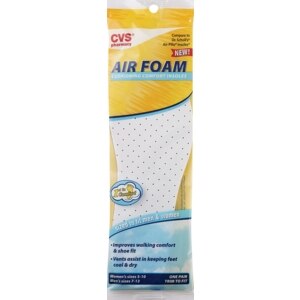 CVS Air Foam Cushioning Comfort Insoles
Sized to fit men & women. Women's sizes 5-10. Men's sizes 7-13. Trim to fit. Lasting comfort with added antimicrobial protection. 1st in comfort. Improves walking comfort & shoe fit. Vents assist in keeping feet cool & dry.
Separate left and right insoles. Trim along outline that matches the size of your shoe with sharp scissors. (Your insole size is the same size as your shoe size.) Insert into shoe, fabric side up. Insoles must lie flat. Replace insoles every three months or more often if you are active.