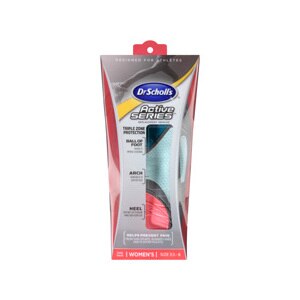 Dr. Scholls Active Series Women's Replacement Insoles, Size 5.5-8
Designed for athletes. Triple zone protection. Ball of Foot: Padding to improve cushioning. Arch: Reinforced to support foot. Heel: Deep heel cup to absorb impact with every step. Helps prevent pain from splints, runner's knee and plantar fasciitis. During athletic activity, the foot is subject to the shock from impact of 2-3 times your body weight with every step. Active Series insoles reduce shock by 40% and, for those with shin splints, runner's knee and plantar fasciitis, helps relieve and prevent the pain. Designed with Triple Zone Protection. Heel: Heel pad absorbs impact yet is very responsive. Arch: Unique arch designed improves transition of weight from landing to push-off. Ball of Foot: Thick ball of foot helps distribute pressure throughout push-off. SweatMax technology helps eliminate odor. Made in China.
Pull out the insole that came in your shoe. Place it on top of Active Series insole with the heels lined up and both topcloths facing up. Trace along the toe area of your original insole onto Active Series insole. Trim the toe area along the line. Slip Active Series insole into your shoe with fabric facing up. Replace insoles every 6 months or at the first signs of wear.