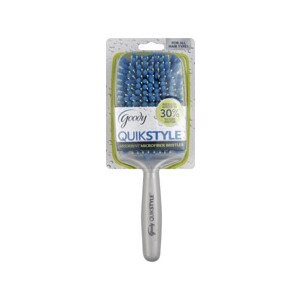 Goody Quikstyle Paddle Brush with Absorbent Microfiber Bristles
For all hair types. Absorbent microfiber bristles. Reduces water by 30% (In laboratory testing, the Goody Quik Style brush removed an average 30% of water from hair across a variety of hair types. Results vary upon usage) to dry faster. Absorbent microfiber bristles. Antimicrobial microfiber (This brush is protected by antimicrobial properties to inhibit the growth of bacteria) keeps the brush fresh. Go from wet to beautifully styled hair faster than ever before. Absorbent microfiber. Reduce water while you detangle, blow dry and style. Use a hair dryer to speed dry the brush. Made in China.
Usage: Use your Goody Quik Style paddle brush as you would use your usual brush. To help speed your styling routine, the brush is designed for detangling wet hair, quick removal of excess water and styling with or without a hair dryer. Drying: Your Goody Quik Style brush will air dry following use. A blast of hot air from your hair dryer will speed the drying of the microfiber bristles. The microfiber bristles are protected by antimicrobial properties to inhibit the growth of mold or mildew from forming on the brush. Cleaning: After a few uses, the microfiber bristles may begin to look a little flat. Gently run a comb through the bristles to remove excess hair, then wash the bristles with warm water and shampoo. To refresh the microfiber bristles, turn the brush over (bristles facing down) and tap the back with the palm of your hand to get the bristles to stand in place.