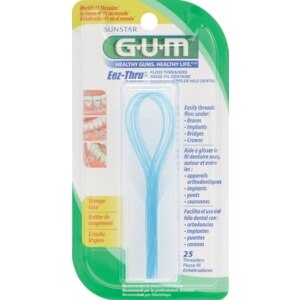 Gum Eez-Thru Floss Threaders
Threads floss under braces, bridges, implants and crowns. Flexible Eez-Thru loops for safe and comfortable use. Recommended most often by dental professionals. Easy dispensing case.
Consult your dental professional, your best authority on proper use. 1. Use about 18 inches of dental floss. 2. Pull 4-5 inches of floss through loop of threader. 3. Pass floss threader through space between teeth or under appliance. Step 1: BRUSH: Brushing alone is not enough because it only removes up to 50% of plaque. STEP 2: FLOSS: Brushing AND flossing only remove up to 70% of plaque. STEP 3: CUSTOM CARE: For optimal gum health, brush, floss AND consult your dental professional to customize your oral care routine.