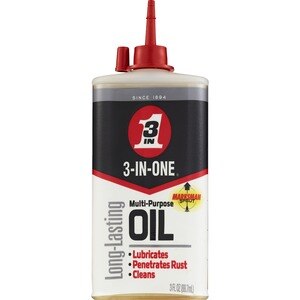 3-In-One Multi-Purpose Oil
Lubricates, cleans and prevents rust. 3-In-One Oil has hundreds of uses: In the home; On the car; In the office; In the workshop; In the garden; On the sports field. Made in the U.S.A.
To open, cut tip of spout. Detach cap and place on spout to close.
Keep out of reach of children. Contains petrolatum distillates. Avoid frequent or prolonged contact with skin. Use only in a well-ventilated area. If swallowed, do not induce vomiting. Call a physician immediately.