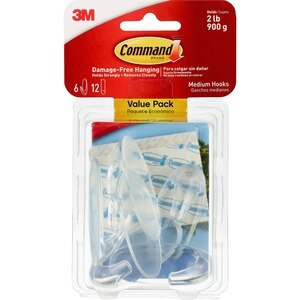 3M Command Damage-Free Hanging Hooks & Strips Value Pack, Medium
6 hooks. 12 medium strips. Holds 900 g (2lb).. Damage-free hanging. Holds strongly. Removes cleanly. Value pack. Clear strips. Made in USA with US and globally sourced materials.
Note: Apply to surfaces above 50 degrees F (10 degrees C). Adhesive could lose adhesion above 105 degrees F (40 degrees C). Not intended for picture hanging. To Apply: 1. Clean surface with isopropyl rubbing alcohol, wipe gently, let dry. Do not use household cleaners. Separate strips. 2. Remove blue liner, press adhesive to clip. Make sure tab is accessible for future removal. 3. Remove black liner. 4. Press clip firmly for 30 seconds. Wait 1 hour before use. To Remove: 1. Never pull strip towards you. 2. Hold clip gently to prevent hook from snapping fingers. Do not press clip against wall. 3. Stretch straight down along wall at least 12 inches until strip releases from wall. Important: Failure to follow instructions carefully may cause damage! Save instructions for damage-free removal.
Do not use with wallpaper. May not adhere well to vinyl surfaces. Do not use for antiques, heirlooms, or other valuable or irreplaceable items. Do not hang items over beds.