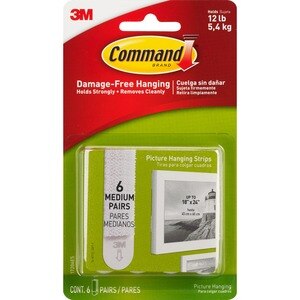 3M Picture Hanging Strips Medium
6 sets of medium strips. Holds most frames up to 18 x 24 inch. Damage-free hanging. Holds strongly. Removes cleanly. Made in USA with US and globally sourced materials. Limited warranty.
Note: Apply to surfaces above 50 degrees F (10 degrees C). Adhesive could lose adhesion above 105 degrees F (40 degrees C). 1. Clean surface with isopropyl rubbing alcohol, wipe gently, let dry. Do not use household cleaners. Separate strips. 2. Press fasteners together until they snap. 3. Remove one red liner. Position one set of strips on back of frame, press firmly. Repeat. Remove remaining red liners. 4. Position item on wall. Important: Press each set firmly for 30 seconds. 5. Grab frame at bottom and peel off surface. Do not pull straight toward you to remove. Firmly press all 3 areas of each strip for 30 seconds each. 6. Wait 1 hour to mount frame. Press fasteners firmly together until they click. If item is not level, reposition. Tips: Wait minimum 7 days after painting to hang frames. If there is paper backing on frame, remove to attach faster directly to frame. To Remove: 1. Grab bottom corners and remove frame as shown. 2. Never pull strip towards you. 3. Lightly press top of strip and grab tab, stretch slowly straight down along wall. 4. Continue stretching at least 12 inches (30 cm) until strip releases from wall. Save instructions.
Do not use with wallpaper. May not adhere well to vinyl surfaces. Do not use for antiques, heirlooms, or other valuable or irreplaceable items. Do not hang items over beds. Failure to follow instructions carefully may cause damage!