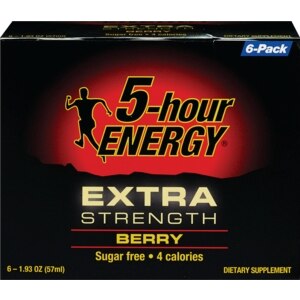 5-Hour Energy Extra Strength Berry 6-Pack
You May Also Like
Size: 50 CP

25% off Clearance
$7.49
$9.99
Dietary Supplement. Zero sugar. Only 4 calories. Individual results may vary. (These statements have not been evaluated by the Food and Drug Administration. This product is not intended to diagnose, treat, cure or prevent any disease.) Made in USA.
Energy Blend: Taurine, Glucuronolactone, Malic Acid, N-Acetyl L-Tyrosine, L-Phenylalanine, Caffeine, Citicoline. Enzyme Blend: Amylase, Protease, Lipase, Cellulase, Lactase. Other Ingredients: Purified Water, Natural and Artificial Flavors, Sucralose, Potassium Sorbate, Sodium Benzoate and EDTA (to Protect Freshness).
For Maximum Energy: Drink entire bottle at one time. For Moderate Energy: Drink a half bottle or less. Use or discard within 72 hours (or 3 days) after opening. Refrigeration not necessary.
Phenylketonurics: Contains phenylalanine. Not for use by children under 12 years of age. Contains caffeine comparable to 12 ounces of the leading premium coffee. Limit caffeine products to avoid nervous, sleeplessness, and occasional rapid heartbeat. You may experience niacin flush (hot feeling, skin redness) that lasts a few minutes. This is caused by niacin (vitamin B3) increasing blood flow near the skin.