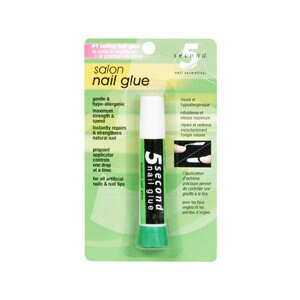 Item 12503. Number one selling nail glue. Gentle and hypo-allergenic. Maximum strength and speed. Instantly repairs and strengthens natural nail. Pinpoint applicator controls one drop at a time. For all artificial nails and nail tips. Precision nail glue without the mess. For nail repairs, strengthening and applying tips and full cover nails. Plus, a convenient carrying case when you're on the go! Made in Japan.
Read instructions before starting and protect working surface from spills. For Best Results: Always start with clean, dry, polish-free nails. To Use Dispenser: 1. Take off green cap from airtight storage container and remove contents. 2. Important. Point tube away from your eyes, face and body without squeezing the tube. Snip off tip, 1/16 inch with scissors. 3. Attach dispenser tip and use. Wipe off excess glue with tissues or cloth. Dab a small amount of Vaseline TM or snip end of tip to prevent clogging. 4. Set tube into green cap with tip pointed up after use. 5. Leave dispenser tip on. Store container in upright position in a cool place. For Repairs: 1. Apply a single drop directly on split, broken, or soft nail. 2. Apply slight pressure to hold nail in position. Hold 5-10 seconds. 3. Let it set for 45 seconds or more. Gently file or buff until smooth. For Nail Tips and Full Cover Nails: 1. Apply a thin, even coat of glue to your own nail. 2. Gently press tip or nail onto your own nail. Hold 5-10 seconds. Removal: Use nail remover or acetone polish remover. Do not break or peel off nails as this may damage your own nails.
Eye and skin irritant. Bonds skin instantly. Contains ethyl cyanoacryalte. Avoid contact with skin and eyes. If eye or mouth contact occurs, hold eyelid or mouth open and rinse thoroughly but gently with water for 15 minutes and seek medical attention. Liquid glue will sting eye temporarily. Solidified glue may irritate eye like a grain of sand and should be treated by an eye doctor. If skin burning occurs, soak in acetone-based nail polish remover or warm soapy water and carefully roll or peel skin apart (do not pull). Contact through clothing may cause skin burns. If spilled on clothing, flush with cold water. Avoid prolonged breathing of vapors. Use with adequate ventilation. Keep out of reach of children.