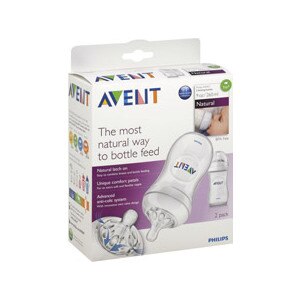 AVENT 9oz Natural Feeding Bottles
No. 1 bottle brand in America. The most natural way to bottle feed. BPA free. Natural latch on - Easy to combine breast and bottle feeding. Unique comfort petals - For an extra soft and flexible nipple. Advanced anti-colic system - With innovative twin valve design. Natural Latch On: The wide breast shaped nipple promotes natural latch on similar to the breast and makes it easy for your baby to combine breast and bottle feeding. Unique Comfort Petals: Petals inside the nipple increase softness and flexibility without nipple collapse. Your baby will enjoy a more comfortable and contented feed. Advanced Anti-Colic System: Innovative twin valve design reduces colic and discomfort by venting air into the bottle and not baby's tummy. Simple to use and clean - Wide bottle neck makes filling and cleaning easy. Only a few parts for quick and simple assembly. Ergonomic shape - Extra comfortable shape, easy to hold and grip in any direction, even for baby's tiny hands. Leak free. Choosing the right nipple for your baby. Four different flow rates to keep up with your baby's growth. Use the Philips Avent Natural bottles only with Philips Avent Natural feeding nipple. Growing with your baby. Compatible range from breastfeeding to cup. This BPA-free bottle is made from PP material (Polypropylene). FCS Mix: Paper from responsible sources. This carton is made of recyclable material. Made in England.
Allowing your child to use this product for prolonged periods separate from regular mealtimes or to go to sleep while drinking liquids, other than water, from this baby bottle may cause or contribute to early childhood tooth decay.