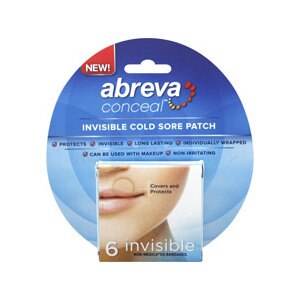 Abreva Conceal Invisible Cold Sore Patch
You May Also Like
Size: .07 OZ

$21.99

($314.14 / oz.)
Invisible cold sore patch. Protects; invisible; long lasting; individually wrapped; can be used with make up; non-irritating. Covers and protects. Abreva Conceal is a clear patch that provides a protective barrier during your cold sore outbreak. Covers to mask the cold sore; protects cold sore from contamination; non-medicated; can apply makeup over the patch; the patch is non irritating; protects day or night. Visit us at www.abreva.com. Made in Italy.
Ship & Save:

Ship & Save Eligible
Wash hands prior to use. The patch should be applied to clean and dry skin without any cream or make up. 1. While holding the protective liner marked with a 2, remove and discard the protective liner marked 1. 2. Holding the applicator tab, remove and discard liner 2. Note: do not touch the adhesive side of the circular patch. 3. Still holding the applicator tab, apply the batch to the area to be covered. Press firmly on the circular part of the applicator for at least 15 seconds. 4. Carefully remove the applicator by pulling the tab over the patch. The patch should be left in place on the skin. Make-up, lipstick or other cover up can be applied over the patch. Repeat application only when an applied patch starts to detach. On average, the patch remains in place for 8 to 12 hours, this will likely vary from person to person and at different stages of the cold sore. When you are ready to remove patch, carefully remove the patch to avoid pain and/or bleeding of the cold sore. If the patch doesn't detach easily, moisten the area with water and carefully remove. Continue using the patches until cold sore has healed or patches have been used up.
For external use only. Keep out of reach of children. If irritation or sensitivity occurs, discontinue use. Do not use if inner pouch seal is broken. Each patch for single use only.