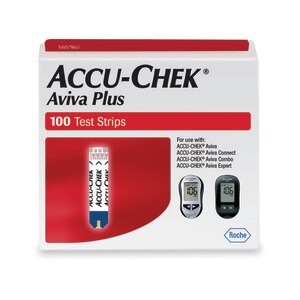 Accu-Chek Aviva Plus Test Strips
ACCU-CHEK Aviva Plus test strips


Used with the ACCU-CHEK Aviva Plus blood glucose meter.
Advanced Accuracy - You can have even more confidence in your blood glucose results.
Easy-to-handle, easy to use - for people of all ages.
Fills quickly at any point along the tip with only a tiny, 0.6 microliter drop
Preferred on most health plans to help you save money1
Covered by Medicare Part B
ACCU-CHEK Aviva Plus test strips and meter are manufactured in the U.S.A.2
1
Co-payments and preferred statuses vary from plan to plan.
2
Using U.S. and imported materials.
ACCU-CHEK, ACCU-CHEK AVIVA are trademarks of Roche.
Store between 36-90degrees F(2-32 degrees C)