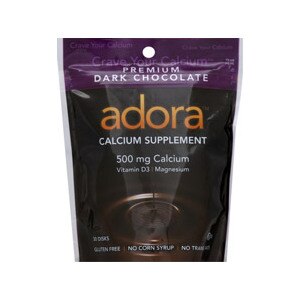 Adora Calcium Supplement Disks Dark Chocolate
You May Also Like
Size: 200 TB
$11.99
Adora Calcium Supplement is a Dietary Supplement.
Vitamin D3; magnesium
Gluten free
No corn syrup
No trans fats
Bone health is important at all ages and statistics show most people are not getting enough calcium. Made with all-natural premium chocolate, Adora Calcium is the most delicious way to get the calcium you need every day. Each disk provides 50% of your daily value of calcium with vitamin D3 and magnesium for optimal absorption.Crave Your Calcium! Adequate calcium and vitamin D throughout life, as part of a well-balanced diet, may reduce the risk of osteoporosis.
Your Body Needs Calcium
:
Age 4-8: 800 mg calcium per day; 1-2 Adora servings per day.
Age 9-18: 1300 mg calcium per day; 2-3 Adora servings per day.
Age 19-50: 1000 mg calcium per day; 2 servings Adora per day.
Age 50+: 1200 mg calcium per day; 2-3 Adora servings per day.
(Source: US Department of Health and Human Services. The 2004 Surgeon General's Report on Bone Health and Osteoporosis: What It Means To You.) Made in USA.
Chocolate Liquor, Sugar, Calcium Carbonate, Cocoa Butter, Magnesium Oxide, Soy Lecithin (an Emulsifier) Vanilla, Vitamin D3 (Cholecalciferol, Derived from Lanolin).
Take one disk up to three times per day, preferably with meals, or as recommended by your doctor. Though you may be tempted with Adora Calcium, please handle as a dietary supplement. Daily intake of calcium above 2500 mg is not advised. Store in a cool dry place to prevent chocolate from melting.
Contains traces of milk. Made in a facility that processes tree nuts. Keep out of reach of children and pets.