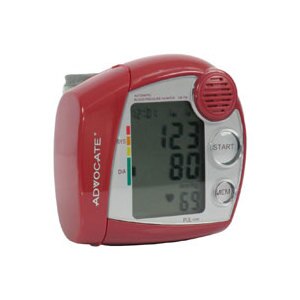 Advocate Wrist Speaking Blood Pressure Monitor
The Advocate speaking wrist blood pressure monitor is a small portable monitor that allows you to measure systolic and diastolic blood pressure on the go. Based on oscillometric and silicon integrated pressure sensor technology, the Advocate speaking wrist blood pressure monitor allows you to non-invasively measure your blood pressure easily and accurately.
Advocate Speaking Wrist Blood Pressure Monitor Features:
Voice Function: Hear your results in both English and Spanish.
Large LCD display: For better visibility. Great for individuals with poor eyesight.
Large Memory: Saves up to 60 test results with date and time.
Quite and Dependable: Super-Low Noise Air Pump, automatic turn off, and irregular heart-beat detection.
Includes:
Advocate Speaking Wrist Blood Pressure Monitor
Notes:
Display system: Extra-large LCD with digital display system
Measuring method: Oscillometric method, automatic inflation, automatic measurement, 60 times memory, irregular heartbeat detection, blood pressure level classification indicator
Pressurization: automatic air inflation by an imported pump
Deflation: automatic exhaust
Cuff size: 300mm�70mm
Machine size: 85mm�82mm�36mm
Weight: 135g (excluding battery)
Measuring accuracy: Within � 3mmHg (0.4kPa)
Blood pressure measuring range: 0mmHg 300mmHg (2.7kPa 40kPa)
Pulse rate range: 30 180/min
Pulse rate accuracy: Within � 5%
Power source: 2�AAA size batteries
Classification: Internal powered Equipment Type B
Automatic power off: To be automatically cut off after 1 minute of nonuse to save energy