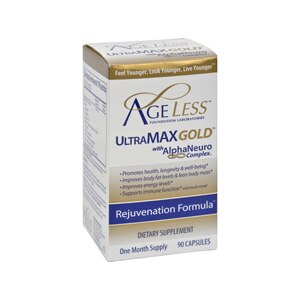 AgeLess UltraMax Gold Capsules
Dietary Supplement. One month supply. Feel younger, look younger, live younger. Promotes health, longevity & well-being. Improves body fat levels & lean body mass. Improves energy levels. Supports immune function and much more! The anti-aging company. UltraMax Gold capsules were designed to enhance the body's natural production of hormones that have been shown to improve physical performance and well-being, and a broad range of health benefits: promote health & longevity; promote well-being; improve bone health; improve body fat levels; improve lean body mass; improve energy levels; support immune function; support healthy heart function. Quality and purity guaranteed. Suitable for vegetarian diets. Suitable for men & women. At Ageless Foundation Laboratories we believe that youth-enhancement is more than just extending our chronological years. True, it is about living longer, but first and foremost, it is about how good you look and feel right now. Being Ageless is not about how long you live, but how great you look and feel at any age. Our commitment is to help you look and feel your absolute best no matter what your age. On behalf of all of us at Ageless Foundation Laboratories, thank you for taking our products. (These statements have not been evaluated by the Food and Drug Administration. This product is not intended to diagnose, treat, cure or prevent any disease). Made in USA.
AlphaNeuro Complex: Glycine, L-Lysine HCl, L-Glutamine, L-Arginine HCl, Alpha-GPC (Glyceryl Phosphoryl Choline), L-Carnosine, Acetyl-L-Carnitine HCl, L-Ornithine Alpha-Ketoglutarate, Bitter Melon Fruit 4:1 Extract, Banaba Leaf Extract (1% Corosolic Acid). Other Ingredients: Cellulose, Magnesium Stearate, Silica.
Adults: take two (2) capsules upon rising, and two (2) capsules upon retiring as a dietary supplement. Take for five (5) days and then skip two (2) days. Protect from heat, light, and moisture. Store at temperatures of 59-86 degrees F (15-30 degrees C). Store in a cool, dry place.
Do not exceed recommended servings. Do not take if pregnant or nursing. If you have any medical condition or are taking any medication, consult a health care professional prior to use. Keep out of reach of children. Sealed for your safety. Do not use if safety seal is damaged or missing. Each bottle is freshness and safety sealed with an outer neckband and inner seal. Do not use if either seal is broken or missing.