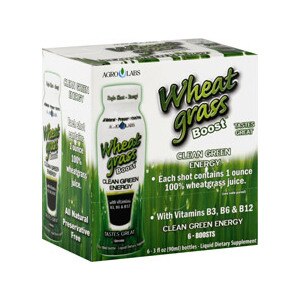 Agro Labs Wheat Grass Boost Clean Green Energy
You May Also Like
Size: 50 CP

25% off Clearance
$7.49
$9.99
Liquid Dietary Supplement. Single shot - energy! All natural - preservative free. Clean green energy. With vitamins B3, B6 and B12. Tastes great. 1 serving. Each shot contains 1 ounce 100% wheatgrass juice. Aseptic process & packaging. Flash pasteurized. Wheatgrass the smart way. Usually only available in health food stores and juice bars, Wheatgrass Boost brings you all the goodness without the expense and hassle. Wheatgrass juice is so popular because it contains over 46 nutrients and trace minerals. All the goodness in an affordable, convenient and delicious supplement. Wheatgrass. It's real, it's natural, and it's certified organic - a whole food that's been harvested at the absolute peak of its nutritional value. Think of it as concentrated solar energy, or simply as an off-the-shelf source of the very best that greens have to offer. Either way, it's good nutrition made simple: the vitamins and minerals your body needs, in the form your body was designed to use - without all of the additives and artificial ingredients you've been hoping to avoid! Our process minimizes the heat exposure during pasteurization and products are rapidly chilled within seconds! Bottles are sanitized prior to fill, eliminating the need for prolonged heating; which allows for cold fill of a preservative, chemical free product. Aseptic processing maximizes the nutritional integrity, flavor and safety. 100% juice. We can all make a difference. (These statements have not been evaluated by the Food and Drug Administration. This product is not intended to diagnose, treat, cure or prevent any disease.)
Proprietary Boost Blend: (D-Ribose, L-Arginine, and Green Tea Extract). Other Ingredients: Apple Juice, Grape Juice, Pear Puree, Banana Puree, Natural Flavor, Xanthan Gum and Bisulfate of Soda. (Juices from Concentrate).
Shake well before opening. For adults, take 1 bottle (three fluid ounces) daily or as needed.
If pregnant, nursing or taking any medications, consult your healthcare professional before taking this or any other supplement. Keep out of reach of children.