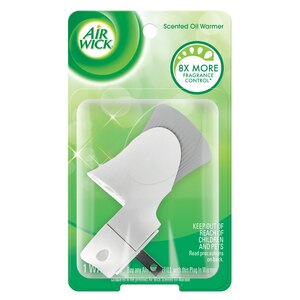 Air Wick - Scented Oil Warmer
Fragrance sold separately. Only use with Air Wick refills - P. Works with any Air Wick Scented Oil refills. UL listed. Made in Mexico.
1. Unscrew cap from fragrance bottle. 2. Insert fragrance bottle into warmer by pushing bottle up into device until click can be heard. 3. Plug warmer upright into outlet. Rotate plug if necessary. Important: Unit will leak if plugged in sideways or upside down. When unplugged, keep unit upright. 4. To adjust fragrance intensity, rotate dial on top of warmer unit. Largest dot = max. setting.
Keep out of reach of children. Important. Risk of electrical shock. This product is not a toy. Intended for adult use only. Use warmer only in properly functioning 120 volt electrical outlet. Do not use with extension cords. Do not place fragrance oil bottle or cap on finished wood surfaces or place any object within 12 inch above warmer. Do not plug anything in above it. Do not disassemble or modify unit in any way. Only for use with Air Wick Air Freshener Refills. Reckitt Benckiser will not be held responsible for damage, injury or poor performance caused by use of any other refills in Air Wick Warmers. Read and retain enclosed leaflet.