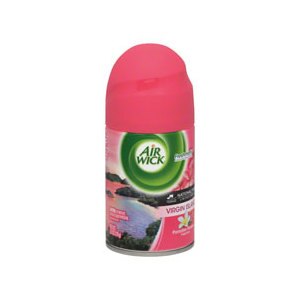 Air Wick Freshmatic Ultra-Refill Virgin Islands
Important: Only Air Wick refills are approved (Approved by Reckitt Benckiser) for Air Wick Freshmatic. Only use Air Wick refills - F. No CFCs: Contains no CFCs which deplete the ozone layer. Made in USA.
To replace empty can with this refill, first turn off your Air Wick FreshMatic Ultra unit to the off position. Discard the empty can and make sure that the red lever is pushed up. Insert this refill with the nozzle facing outward. Set the device by setting the fragrance intensity control to the needs of your home: low, medium, high. The first spray will come after a 15 second delay. Keep unit directed away from your face at all times.
Keep out of reach of children and pets. Flammable. Harmful or fatal if swallowed. Eye irritant. Contents under pressure. May be harmful if directly inhaled. May cause allergic reaction in some individuals. Do not spray towards face or body. Do not get in eyes. Avoid contact with skin. Container may explode if heated. Do not puncture or incinerate container. Do not expose to heat or store at temperatures above 120 degrees F (49 degrees C). Do not position near heat or electrical sources. Do not spray directly onto surfaces. Do not spray into open flames. In case of contact with surfaces, wipe immediately with damp cloth. Use in well-ventilated rooms away from sleeping areas. For adult use only. Product is not a toy. Contains propellants, petroleum solvent and fragrance. First Aid: If swallowed, do not induce vomiting. Immediately call a physician or Poison Control Center. If in eyes, immediately rinse eyes with water. Remove any contact lenses and continue rinsing eyes for at least 15 minutes. If irritation persists, get medical attention. If on skin, wash with soap and water. Discontinue use immediately and get medical attention if a reaction develops. Note to Parents: Use only as directed. Intentional misuse by deliberately concentrating and inhaling the contents can be harmful or fatal. Do not reuse batteries. Batteries contain 0% mercury/0% lead/0% cadmium.