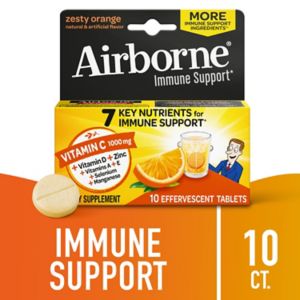 Airborne® Effervescent Tablets Zesty Orange
Compare & Save
with CVS/pharmacy Brands
Size: 10 TB
(1)
$5.99
Dietary Supplement. Bonus! 20% More. Created by a school teacher! For Use In: Airplanes; Offices; Schools; Restaurants; Health clubs; Theaters. The original immune-boosting tablet that helps your body fight germs. Take Airborne to boost your immune system. A healthy immune system helps your body fight germs. Take before entering crowded environments, like airplanes, offices and schools. Airborne was developed by a school teacher to boost her immune system, so that it could help her body fight against germs that abound in the classroom. Airborne's unique formula contains 17 herbs and nutrients, including ginger for nausea. No artificial colors or preservatives. 1,000mg of Vitamin C; Seven herbal extracts!; Antioxidants!; Electrolytes!; Amino acids!; Tastes great! Effervescent technology offers faster absorption! To ensure safety, purity and potency, Airborne is proud of the fact that we extract only whole plant material. (These statements have not been evaluated by the Food and Drug Administration. This product is not intended to diagnose, treat, cure or prevent any disease.) Manufactured in Germany.
Herbal Extract Proprietary Blend: Maltodextrin, Lonicera (Flower), Forsythia (Fruit), Schizonepeta (Aboveground Parts), Ginger (Dried Rhizome), Chinese Vitex (Fruit), Isatis (Root), Echinacea (Aboveground Parts). Amino Acids: Glutamine (as L-Glutamine), Lysine (as L-Lysine HCl). Other ingredients: Citric Acid, Sodium Bicarbonate, Sorbitol, Potassium Bicarbonate, Natural and Artificial Orange Flavor, Tri-Calciumphosphate, Polyethylene Glycol, Acesulfame Potassium, Sucralose.
For Adults and Children 12 Years and Older: Simply drop (1) Airborne tablet in 4-6 oz. of water, let dissolve (about 1 minute) and drink. Repeat every 3-4 hours as necessary, no more than 3 times per day. May be used in hot or cold water.
Do not take if pregnant or breastfeeding, unless you have consulted a physician. As with all dietary supplements, people on medication or with known medical conditions should consult a physician before taking. Sealed with a tamper evident cap for your protection.