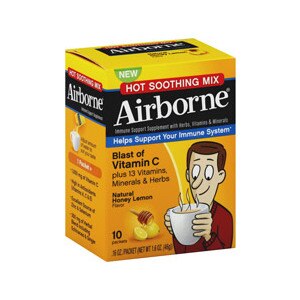 Airborne Immune Support Plus Energy Packets Natural Honey Lemon
You May Also Like
Size: 60 EA
$8.99
Immune Support Supplement with herbs, vitamins & minerals. Helps support your immune system. Blast of vitamin C plus 13 vitamins, minerals & herbs. Adjust amount of water to suit your taste. 1 packet = 1,000 mg of vitamin C; high in antioxidants (vitamins A, C & E); excellent source of zinc & selenium; 350 mg of herbal blend including echinacea & ginger. Airborne Hot Soothing Mix provides the same great immune-support ingredients as Airborne Effervescent & Chewable Tablets. Enjoy this hot honey lemon formula that soothes and comforts while supporting your immune system. Naturally sweetened. Gluten Free. No preservatives. Contains no artificial flavors or preservatives. Recyclable carton. (This statement has not been evaluated by the Food and Drug Administration. This product is not intended to diagnose, treat, cure or prevent any disease.)
Herbal Extract Proprietary Blend: Maltodextrin, Lonicera (Flower), Forsythia (Fruit), Schizonepeta (Aboveground Parts), Ginger (Dried Rhizome), Chinese Vitex (Fruit), Isatis (Root), Echinacea (Aboveground Parts). Amino Acid Blend: Glutamine (as L-Glutamine), Lysine (as L-Lysine HCl). Other Ingredients: Honey Powder (Cane Juice, Honey), Sugar, Natural Flavors, Stevia Leaf Extract.
For adults and children 12 years and older: Empty the contents of one packet into a glass. Add 6 oz (3/4 cup) of water and stir to dissolve. Repeat every 3-4 hours as necessary; up to 3 packets per day. If desired, adjust amount of water for best taste. Store in a cool dry place.
Do not take if pregnant, breastfeeding, on medication or with a known medical condition unless you have consulted a physician.