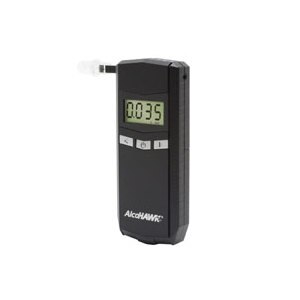 AlcoHAWK Reveal Breathalyzer
Why guess? Test your Blood Alcohol Concentration (B.A.C.) with confidence using AlcoHAWK Breathalyzers! The AlcoHAWK Reveal is the newest breathalyzer released in the AlcoHAWK product line. Offering cutting-edge technology, stylish design and affordability, this digital breath alcohol screener has it all! The Reveal quickly checks for the presence of alcohol and offers many features that consumers can adjust according to their needs. One of the most attractive features is the adjustable audio and visual alert system which will display different colors corresponding with preset Blood Alcohol Concentration (B.A.C.) levels. The Reveal has a folding mouthpiece design that may be used with or without the replaceable mouthpiece covers. Additional mouthpieces may be kept in the battery compartment to allow for sanitary testing of friends and family, anytime, anywhere.
Audio and Visual Alert System using back light colors to indicate BAC% level
Folding mouthpiece with replaceable mouthpiece covers
4-digit LCD display
Calibrated prior to shipment in our USA Service Center
Includes:
The AlcoHAWK Reveal unit
Three mouthpieces
Owner's manual
Quick start guide
1 year warranty
Flip out the folding mouthpiece to get ready for testing. Press the Power Button for 2 seconds to power on the breathalyzer unit. A single 'beep' is heard with current temperature displayed on the screen. Press the LEFT button to initiate the sensor warm up and auto-cleansing process. The timer will count down from 99. Wait until 'RDY' (Ready) appears with a single 'beep' indicating that the unit is ready to use. Take a deep breath and blow SLOW and STEADY into the mouthpiece until you hear another 'beep' sound to signal completion of the testing. Shortly after completion of the test a Blood Alcohol Concentration (BAC) will be displayed on the screen.