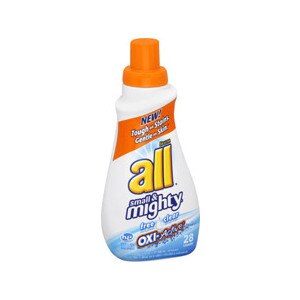 All - Mighty 3X Concentrated Laundry Detergent Free Clear
28 loads (Contains 28 loads as measured above line 1). Free of perfumes and clear of dyes. Safe for all washing machines. Touch on stains. Gentle on skin. All Small & Mighty free clear Oxi-active is a super concentrated detergent. The advanced stain fighting combined with the power of Oxi-Active leaves your entire wash clean and fresh, and it is still gentle on skin, without dyes or perfumes. All is safe for hand washables, for use with bleach, and for septic tanks. This product does not contain phosphorus. Made in USA.
Biodegradable Surfactants (Anionic and Nonionic), Natural Enzymes, Water Softener (Sodium Citrate), Stabilizer, Buffering Agents, and Brightening Agent.
How Much to Use: Normal load = Just above line 1. Large load = full cap. For Pre-Treating: Rub a small amount directly onto the stain before washing. Don't forget to check an inside seam for colorfastness! Soak for Tougher Stains: Combine 1/3 capful of All Oxi-Active detergent with water and soak clothes overnight.
In case of eye contact, flush with water. If swallowed, drink a glass of water. Call a physician. Keep out of reach of children.