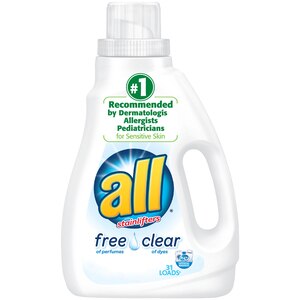 All with Stainlifters Free & Clear Laundry Detergent
33 loads (Contains 33 loads as measured to line 2). HE, Safe for all washers. Free of perfumes and clear of dyes. No. 1 recommended by dermatologists and allergists for sensitive skin. Powerful clean. Gentle on skin. Good for people with sensitive skin. No perfumes or dyes, hypoallergenic. Removes 99% of the top everyday & seasonal allergens (Dog and cat dander, dust mite matter, ragweed pollen, grass/tree pollen. All free clear is not intended to treat or prevent allergies). Join us at Facebook.com/allfreeclear to learn more! For full list of ingredients, visit www.sunproductscorp.com. Safe for septic systems. All includes biodegradable surfactants and the bottle has 25% or more post-consumer recycled plastic. Made in USA.
Contains Biodegradable Cleaning Agents (Includes Anionic and/or Nonionic Surfactants).
Medium Load: Fill slightly below halfway for medium loads (line 2 - 1.5 oz). Large Load: Large, heavily soiled loads: Fill to top of cap. Pre-Treating: Rub a small amount directly onto the stain before washing. Check inseam for colorfastness.
In case of eye contact, flush with water. If swallowed, drink a glass of water. Call a physician. Keep out of reach of children.