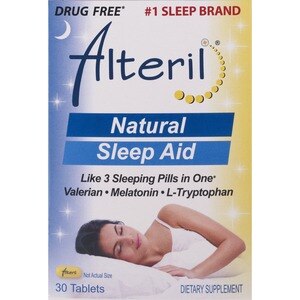 Alteril All Natural Sleep-Aid with L-Tryptophan Tablets
All natural. Somnia latoril. 100% all-natural dietary supplement to help you sleep when you need it, so you wake up refreshed. Fall asleep faster & stay asleep; prolong deeper sleep stages; reduce nighttime awakenings. Improve the quality of your sleep. (This statement has not been evaluated by the Food and Drug Administration. This product is not intended to diagnose, treat, cure or prevent any disease.)
Nutrition
Serving Size: 1-2 tablets
Servings Per Container: 15-30

This product contains the following: Melatonin 4mg, GABA (Gamm-Aminobutyric Acid) 100mg, Hops (Humulus Lupulus) 20mg, L-Tryptophan LT-ONE 666mg, Glycine 50mg, Valerian Root Extract (0.8% Valerienic acid) 40mg, Passion Flower Herb Extract (1.6% Flavonoids) 20mg, Skullcap Extract (Scutellaria Laterifolia, Aerial Parts 3.5-4.5:1) 60mg, Chamomile Herb 20mg and Soy.

Other Ingredients: Dicalcium Phosphate, Povidone, Sorbitol, Crospovidone, Stearic Acid, Magnesium Stearate, Riboflavin.
For adults, take one (1) or two (2) tablets one hour before bedtime. Store ate 59-86 degrees F (15-30 degrees C).
Keep out of reach of children. Do not use in conjunction with alcoholic beverages, when driving or while operating heavy machinery. If you are taking prescription medicine or have a medical condition, are pregnant or lactating, consult your physician before taking Alteril. As with any adult supplement, do not administer this product to children. Contains lecithin from soybeans. Do not use if blister unit is broken.