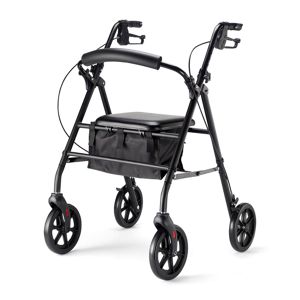 Aluminum Folding Rollator w/ Removable Back Support & 8" Casters with Loop Locks
Large 8" casters are ideal for indoor and outdoor use. Removable, hinged, padded backrests can be folded up or down as necessary. Handles are adjustable in height. Easy to use loop locks. Comes with padded seat with zippered pouch under seat. Comes standard with pouch.
Handle Height (highest) 38"
Handle Height (lowest) 33"
Unit Width 24"
Unit Length 28"
Seat Depth 14"
Seat Width 14"
Seat Height 23"
Weight Limit 300 lbs.