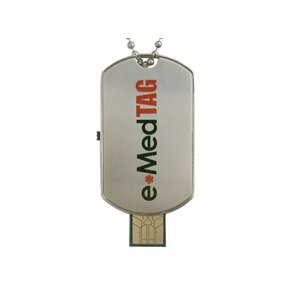 American Medical ID Dog Tag Stainless USB e-Med Dog Tag 28"
Keep your medical information with you at all times!
e-MedTAG Stainless Steel USB Dog Tag is password protected with pre-loaded forms - simple to set up and update.
Easily organize and access all your medical information -perfect for doctor visits, pharmacy consults, while traveling or in an emergency.
1GB USB stores medical conditions, emergency contacts, doctor and insurance information and other documents, such as living wills, donor cards, etc.
Wear around your neck, on your keychain, or carry in a purse, briefcase or backback.
Included software is compatible with Windows 2000/ Vista/ XP/ 7, and Mac OS X 10.5.6.
This item is FSA (Flexible Spending Account) eligible.