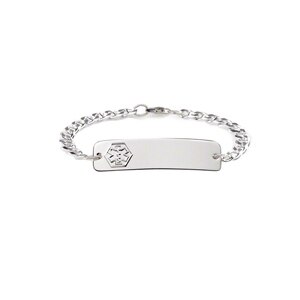 American Medical ID Bracelet Silver Classic Womens Bracelet 8"
To have your medical ID custom engraved for FREE, first proceed through the checkout entirely and then call American Medical ID toll free at 1-800-363-5985, 8 am - 6 pm CST (M-F.) Please have your order number and engraving information ready. To ensure quick receipt of your medical ID, customer items will ship within 7 days. Please contact American Medical ID within 48 hours regarding engraving requirements.
Rhodium overlay contains a small amount of nickel. Customers with nickel allergies can request a non-rhodium ID when calling American Medical ID at 1-800-363-5985 to confirm engraving information.